You have Land you Want to Sell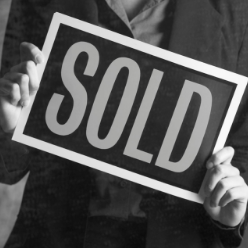 You own land. Congratulations! But you've decided, for whatever reason, to sell it.
If you don't know what the acronym "FSBO" means, it's "For Sale by Owner." If you're planning to sell your land yourself, that makes you the "O" in this equation — the Owner. This puts you in a good position for selling your property yourself.
Yes, You Can Sell Land
Don't fall into the trap — often perpetuated by certain professional realty organizations — that you absolutely cannot sell your property on your own, and that if you even think about doing so, terrible things will befall you.
The notion that you can't sell without consulting a middleman is preposterous. People do it every day.
Still, there are some precautions to take.
Selling Directly to a Land Company
Your best bet may be to sell your unwanted property to a professional land purchasing company. These are the companies that advertise their willingness to buy land and close the deal quickly. Some of these companies also take care of all the paperwork and legal hassles, so all you have to do is get an estimate, and collect your pay.
This is a very convenient way to dispose of land you don't want or need. However, it's unrealistic to expect to be paid the current market rate. The offer you receive from such a company may fall below what you hope for, and sometimes, well below. But, if you need some quick cash and have a parcel of land that's just sitting there growing weeds year after year, this may be your best bet.
Remember, not having to deal with legal fees and other complexities involved with selling land can be a bonus in its own right.
Online Sales
People have been selling property online since the early days of the internet. You can, too.
You can buy and sell land on quite a few sites, including general auction venues such as eBay, or sites that specialize in property.
If you're willing to let a parcel of land go cheaply, you can list it for sale on certain sites, such as Bid4Assets.com, as a "$1 No Reserve" auction. Don't worry, you're not actually selling your land for $1, as long as you're sure to clearly state terms and conditions of the sale. Often, a seller will demand doc (document) fees in order to offset the costs of transferring the land to the buyer, and also the cost of selling land via the online venue. Hence, you could have a $1 no reserve sale with a $500 doc fee.
Remember, somebody is going to be paying those listing fees, document fees and more. If you retain a real estate attorney, you'll have to deal with those fees, too.
You can make your sale look like a real bargain by advertising your land with "No Doc Fees." That's a reference to the documentation fees incurred anytime property is transferred from buyer to seller. Just increase your sale price in order to ensure that the buyer will still be the one actually paying all the costs.
For Beginners
If you're an owner attempting to sell a piece of land, and you honestly have no clue what you're doing, you might consider going with the pros.
If you're serious about getting rid of your land, but don't know how to transfer deeds, or are clueless when it comes to writing ad copy and marketing your own property, do a quick online search for companies that buy land and offer quick estimates and payouts. Make sure the company agrees to take care of all the legal fees and arrangements. You'll stand a better chance of easily selling your land this way, and you won't be burdened with the hassles of closing the deal.
If you don't sell with a company, then you might want to close the transaction with the aid of a real estate attorney. Shop around, though. Some of these attorneys charge outrageous fees, while others are quite reasonable. They can even take care of filing the deed in the county where your property is located. You'll pay fees but might also avoid some legal problems.
Setting Your Own Terms
As a landowner, you get to call the shots. Whether you choose to deal with a land company, live or online auctions or selling locally, you can set your own fees. Watch out for unrealistically low offers from potential buyers, while avoiding the pitfalls of pricing your land too high for any rational person to take seriously, and you can sell your own land like a pro.