Selling Land Without A Realtor
Working with a real estate agent is a very smart move when it comes to selling a house. Selling a home can be complicated and time-consuming, and taking advantage of the agent's expertise, resources and networking can help you make a quick and profitable sale. But selling vacant land is much different. Land is land. There are no inspections to complete, to structures to be appraised, no closing costs to negotiate. Selling land without a  realtor is basically hassle-free and can be done if you know what you're doing.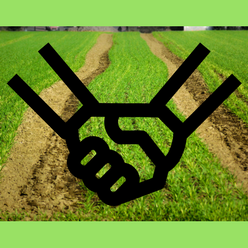 Cutting Out The Middle Man Means Cutting Out Extra Fees
Selling land directly to the buyer is the cheapest, fastest, and easiest way to sell. When it comes to the cost, real estate agents charge for the services they provide, including premiums and commissions that end up costing you more money in the long run. By deciding not to work with a real estate agent, you're cutting out the middleman and saving yourself extra costs and fees.
Understand the Buyer
People buying land are a lot different than people buying homes. Buyers looking to buy land usually already have an idea in mind, so getting to know what their plans are is a good way to sell the home. If they're planning on building a vacation home, point out the gorgeous views, the proximity to local attractions and other highlights of your land that fit with their plan. When you understand the buyers who are most likely to buy your home, you can equip yourself with the information that is the most relevant to them. If young families have purchased most of the vacant lots in the area, having info about the local schools, restaurants and shopping areas could help seal the deal. If the nearby lots have been sold for commercial real estate, providing buyers with demographics and other information that will help them make their decision.
Avoid Banks and Financing
Many sellers will provide financing so that the purchase process is easier on both ends. Owners who are selling their homes would never take smaller, monthly payments towards their home, which means buyers must go to the bank for a loan for a large amount. Owners who are selling their land, however, may offer financing so that the buyer can avoid taking out a large loan and pay the seller in smaller monthly payments. This option allows the buyer to avoid high interest rates from the bank, provides the option for a smaller down payment and can bypass the need for the bank to dig into past work and credit histories. Owners who do provide financing should still ask for proof that the buyer can pay the agreed upon amount each month, to ensure that everyone is getting the best deal possible.
Have The Land Ready
First impressions are a big deal in real estate, and a vacant lot has to work much harder to impress a buyer than a lot with a beautiful house on it. Cut the grass, pick up trash, and make the lot look presentable. Some owners even plant wildflowers to add color and beauty to their lot.
A Quicker Buying Process
Time is money, and selling your land without a realtor can save you both. It takes an average of 45-60 days to close on a house, so the house isn't officially sold until well after that time period. When you sell directly to the buyer, the process is much quicker. There aren't any inspections to schedule, and paperwork can be completed in a matter of hours, which gets the property sold much sooner.
Going Solo? Be Educated and Prepared
If this is your firs time selling real estate, it is important to educate yourself and have the answers to the questions a typical buyer will ask you. If you are going to do this without a real estate agent, it is vital that you know the answers to questions like:
• What are the zoning laws?
• What type of septic system is in place?
• What are the flow rates from the existing wells?
• Can it be built on?
• Are there liens or deed restrictions?
• Will there be HOA fees?
These are questions a real estate agent knows to ask, but if you are flying solo on this one, it's important you know the answers before you make things official.
Know The Process
When you're selling a home, the real estate agent does a lot of the behind the scenes work to make things happen. He/she makes the phone calls, gathers the documents, sends the emails and schedules the meetings to make the transaction run smoothly. If you're not working with a realtor, you're in charge of all of those things. Here is a brief guideline on how to go about getting it done on your own:
• Get in touch with the zoning department to get details about lot dimensions and any issues that may restrict the buyer from building
• Check for any utilities that need to be paid for and have documentation ready when the buyer asks about it
• Have a survey done to confirm the boundaries of the land
• Research the comparable lots in your area and decide on a price
• Since you aren't counting on a realtor to advertise for you, list your land on online websites geared towards selling land and use social media
Selling land without a realtor has many advantages, and can save you a lot of time and money vs. going through an agent. You pay an agent for their knowledge, experience, network, expertise and resources, and you get what you pay for. Real estate agents can make the process a lot less stressful, especially if this is your first time selling land, but they will also cost you more. Take the time to weigh the pros and cons before you make any big moves, and armed with a little education and patience, you'll be able to sell your land all on your own.