Selling land fast can be a challenge. Sales cycles for land sales are typically longer than homes or other types of real estate and there are some unique challenges that make selling land harder than selling a home. However with the right approach selling your land fast can certainly be possible. Here are a few tips that can reduce the sales cycle and help you to get some fast cash for your land.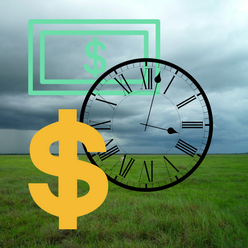 Here are some tips on how to sell land fast!
• Price it right
People are always looking for a deal and pricing your land at the lowest price possible is one way to attractive the attention of motivated land buyers. Check out local listings and see what comparable properties are selling for and try and price your property competitively. The lower your willing to list the property the more likely you are to sell your land fast.
Price is king, so pricing your property right is one of the first steps to finding a motivated buyer and selling your land fast. Keep in mind that most buyers will be paying cash for land, as bank financing is harder to acquire so they'll be more motivated to save those hard earned dollars and will want to make sure they're getting the best deal possible.
Giving them a deal they can't pass up is going to be one sure fire way to get to find a motivated buyer that's ready to close fast and buy your land in a hurry. If selling your land cheap or taking a loss doesn't sound like something your ready to do here are some additional tips that will help increase the likelihood of selling your land fast.
• Give people the information they need to make a decision.
Do the research on the property before hand and make sure it's part of your presentation and included in your land listing. Informed land buyers are more likely to make a decision which makes selling your land fast much more possible because it eliminates the buyer having to go and find out all of this information on their own which will just slow down the process of selling your land and may lead them to another property that is listed.
Check with the county before hand, find out all the info that you'll need to inform your buyer and make them feel confident that your property is a good fit for them. Most people will want to know what they can do with the property so make sure you're ready to give them the information they need.
Check with the county offices to gather information on zoning and property use. Be ready to answer questions on land use and what's possible. Sell your potential land buyer on what's possible, which may be hard to visualize or imagine without the right information.
• Increase your exposure – find multiple listing sites to sell your land
Getting as many people to see your property is key. Find as many different land listing sites or places you can sell you land. Luckily in the age of the internet there are various resources that are perfect for selling your land online.
The trick is to get a many eyeballs as possible on your land, which will increase the likelihood that you'll find a land buyer and sell your land fast. There are a ton websites that work well for selling land and here is a list of some of the top land listing sites.
If your looking to sell your land as fast as possible your going to want to get it listed on as many of these as possible which should help increase the amount of exposure to your land listing.
Examples include:
Since the key here is to sell the land fast it requires that you must be proactive in your approach and put in the work so that you can find a motivated buyer who is the right fit for your property.
Answer your phone when it rings or make sure and call back any potential buyers and leads as soon as possible and be ready to answer their questions on the spot once you've pick up the phone.
Make sure and keep any contact information they've given your and follow up with them whenever possible to make sure they have everything they need to make a decision. You would be surprised how many "professionals" in real estate seem to miss this one. Communication is key and potential land buyers will want to find out more about your property.
Answering calls, being informed and able to answer any questions about the property will make you seem more credible in your buyers eyes and they'll been more confident buying a property from you.
• Sell Buyer Direct – Find a Land Buyer
One of the fastest ways to sell your land is to sell direct to your land buyer. If you have a motivated buyer that's ready to buy your property and you want to sell your land fast you want to arrange the deal directly as soon as possible. Waiting for 3rd parties to go back and forth can take days and sometime deals fall though because your land buyer finds another piece of land for sale that they like better.
If you're comfortable communicating with potential land buyers than try and put an agreement together on your own and find a local title company that can handle the escrow and ask that they set up as quick a closing as possible. If you've priced your property right you can ask that the buyer wave any contingencies or inspection periods and ask for a quick closing.
Find a simple purchase agreement online or have one drafted and have the buyer sign it based on the terms that you've agreed upon. Once you have a signed agreement you can find a local title company or Real Estate attorney and have them run title on the property and handle escrow. This part seems more complicated than it is and your agreement can be fairly simple, especially if it's a lower value property.
Consult with a professional if this seems too complicated but know that being in control of the process of arranging the deal is one way to speed up the process and sell you land fast.
Selling land fast can be a challenging process and requires some effort on the part of the seller to make sure they find a motivated land buyer and can close a deal fast, however with the right game plan and a proactive approach your be trading your land for some cash in the bank in no time.